NEW novel LIFE IN A HAUNTED HOUSE, now available!
"Prentiss continues to chart his own path through the horror genre, a path which more often than not is haunted by the monsters hiding inside us rather than slavering demons or serial killers…A poignantly moving, sometimes funny and oftentimes bittersweet human portrayal of a young man trying to make sense of his parents' divorce, his place in the world, and the true meaning of friendship…I can do no less than give Life in a Haunted House my highest recommendation." — Cemetery Dance Online [for the full review, click here:  http://www.cemeterydance.com/extras/review-life-haunted-house-norman-prentiss/]
**Only $2.99!**  Click the cover below to learn more or to purchase the eBook!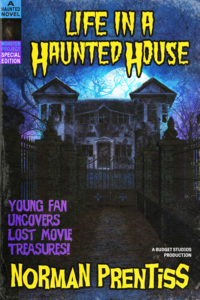 About the book:  
Brendan has always been fascinated by the low-budget horror films of Bud Preston. Imagine his surprise when he moves to a new town and discovers a high school classmate is the daughter of his favorite director. Melissa Preston's home contains exciting secrets about such strange films as THE STONE STAIRWAY and THE DUNGEON OF COUNT VERLOCK. But Brendan's film-fan obsessions threaten to undermine his new friendship…before he can truly understand what it means to spend LIFE IN A HAUNTED HOUSE.
Alongside the book's release, I'm also offering previously unpublished stories — 9,000 word "novelizations" of films by the low-budget director featured in the novel.
As some of you may recall, "The Dungeon of Count Verlock" was Bud "Budget" Preston's only vampire film.  "The Lake Monster" was his Black Lagoon-style chiller. And "The Space Visitor" was his low-budget sci-fi epic:
…To read the full Count Verlock story online for free on my website, click here…
…For eBook versions (only 99 cents each!), click a cover above to visit Amazon…