COMING SOON: New novel, LIFE IN A HAUNTED HOUSE
My new novel is now posted at Amazon's Kindle Scout page, where you can read a 5,000 word excerpt. Please visit, and if you like what you see, you can nominate the book — and get a free copy of the eBook if Kindle Press selects the book for publication!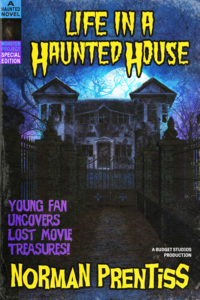 To help celebrate the book, I'm currently offering free, previously unpublished stories — 9,000 word "novelizations" of films by the low-budget director featured in my novel.
As some of you may recall, "The Dungeon of Count Verlock" was Bud "Budget" Preston's only vampire film.  And "The Lake Monster" was his Black Lagoon-style chiller:
…To read the full Count Verlock story online, click here…
…Or visit Cemetery Dance Online to read the full Lake Monster story…
…If you'd prefer a free eBook version, click each cover above to visit Instafreebie…
And once again, here's the link to Kindle Scout to learn more about my forthcoming full-length novel, Life in a Haunted House: https://kindlescout.amazon.com/p/2GQZCQNY6426Z