Author Spotlight: Jessica Knauss (plus giveaway link for $100 Amazon Gift Card!)
I'm participating in a Kindle Unlimited Swap Meet this month with over 20 other authors. ALL of our books are available to read for free through the Kindle Unlimited program. If you're not already a KU member, you can sign up for a month-long free trial and read as many books as you want — for FREE!
I decided to discover a new author this month, and the book I chose is AWASH IN TALENT by Jessica Knauss, which shares some of the fantasy elements I explore in my own ODD ADVENTURES WITH YOUR OTHER FATHER. (And if you haven't read my book yet, you can also read it for free this month through Kindle Unlimited.)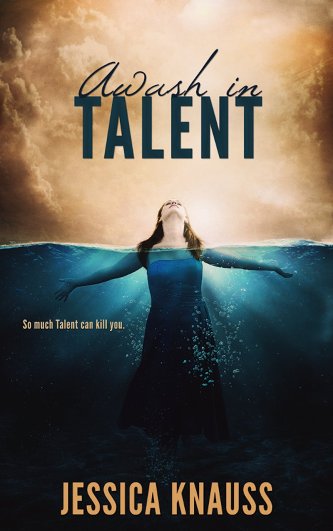 Jessica's book is a smart and original fantasy about people with special powers (telekinesis, healing, firestarting, mind-reading). I especially admired the novel's unique structure, presented as a series of three interlocking novellas. One of the joys of the book was finding connections between the different parts, as the narrator of a new section crosses paths with the previous speaker–the technique keeps readers on their toes as they work to recognize the subtle threads. It's all done very cleverly, and the final novella ties things together nicely.
I was interested in the book's structure, since in OTHER FATHER I attempted another variation on a novel comprised of linked stories. So I contacted the author to get more info. about how she put her book together, and here's what she said!
"When I began the first novella, Hope & Benevolent, I thought it was a short story. Over the course about two years, I kept going back to it to see where the out-of-control narrator would take it next. I should add that at the time, I was writing my first novel, SEVEN NOBLE KNIGHTS, a medieval epic that weighs in at about 120,000 words (after trimming!). Writing something briefer was a nice break once in a while. When the first novella was finished, I realized that the characters in AWASH IN TALENT had still more story to tell. It felt right to tell it from a different perspective, and thus the second novella, WaterFire, came about. A year later, Friendship Street came along to finish the story of the two special sisters. The different perspectives and additional characters helped give my alternate-reality Providence more depth. 
"The first inspiration for WaterFire only allowed for it being a story about a Providence native. When Kelly revealed her main challenges, I realized only Beth from the first novella could help her. Beth becomes a key character by the end of WaterFire, and its events help to tell her story.
"Friendship Street brought focus back to Emily. I wondered what would happen to Emily once her sister, Beth, sort of hit it big. I knew she would be in court-ordered therapy, and who more appropriate to treat her than a psychic who can read minds? I found Patricia the psychic's story to be just as compelling as Emily's, and in the end their fates are intertwined. So much so that both Emily and Patricia are demanding a sequel. I'm not sure I should humor them, because if I do, they may never stop demanding more stories."
Thanks to Jessica for answering my questions, and for writing such an engaging book. Here's hoping those sequels happen!
———–
Feel free to check out ALL the books in the Swap Meet this month. Many of them are up to 70% off, and there is something for everyone, from fantasy, to mystery, to romance. And be sure to enter to win a $100 Amazon gift card! You can enter by helping to spread the word about these great Kindle Unlimited books.