ODD ADVENTURES WITH YOUR OTHER FATHER — PREVIEW of New Novel @ Amazon!
Announcing my first full-length book, ODD ADVENTURES WITH YOUR OTHER FATHER — currently on Preview at Amazon.com, as part of their Kindle Scout program.
If you like what you see and enjoy the 5,000 word excerpt, please consider becoming a "Kindle Scout" to Nominate the book (and encourage Amazon to publish it!).  I promise: the adventures get even more wild as the book continues!
UPDATE: The book was selected by Kindle Press, and is now available for purchase!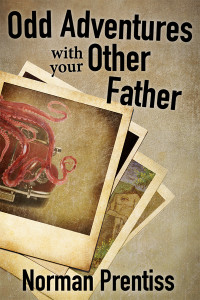 ODD ADVENTURES WITH YOUR OTHER FATHER, by Norman Prentiss
A queer roadtrip of supernatural adventures!
Because one of her fathers died when she was very young, much of Celia's family knowledge comes from stories her surviving father narrates—road-trip adventures from the mid-80s that explore homophobia in a supernatural context. As she considers these adventures (a rescue mission aided by ghostly hallucinations; a secluded town of strangely shaped inhabitants; a movie star with a monstrous secret), Celia uncovers startling new truths about her family's past.
Follow this link to learn more about the book, or to purchase: https://www.amazon.com/dp/B01EG5NGPA