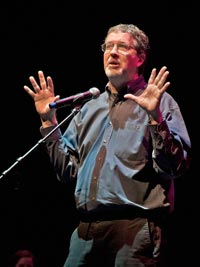 Photo Copyright © 2010 Stoop Storytelling Series
Appearance at Baltimore's CenterStage as part of the Stoop Storytelling Series, October 18, 2010 (Haunted: Stories of ghosts, regrets, and things from the past that won't stay in the past). Telling the story of a young sibling's death—events from real life that inspired some of the fictional horrors of Invisible Fences.
Click here to listen at the Stoop Stories website.
This stage appearance was also broadcast on the Halloween episode of Stories from the Stoop, on Baltimore's WYPR radio, 88.1 (broadcast date, 10-30-10).