National Doctors' Day
I'm writing in my own voice, as a follow-up to yesterday's bleak post in second person, about an unnamed protagonist who dreads upcoming surgery.
When people ask me where I get ideas for my stories, my typical answer, as a horror writer, is that "I take real life, and make it worse."  Because, to my mind, making life "better" would falsify it somehow, neglecting the challenges we all face — and, even in situations where the outcome is positive, neglecting the tangible anxieties we experience along the way.
This frame of mind helps generate a lot of bleak landscapes — pretty much any of the previous 89 blog entries, for example.  In life, it's helped me anticipate problems before they occur, which is a useful skill when I've worked as a teacher, or a summer-camp administrator.
Not so useful when facing open-heart surgery.  Yesterday's blog is pretty much how things went for me last year (though following my usual writing strategy, I "made it worse").  The night before the surgery I tried to maintain a positive outlook, but let myself get freaked out by legal cautions, by an instructional video about the procedure, by a well-meaning but overly detailed post from a friend of a friend.
Despite my anxieties, the surgery went well.  I could add some real-life horror touches if I wanted, however.  For example, I remember waking in the ICU with a breathing tube still down my throat.  I couldn't speak, and had to write the word "pain" on a portable white board to get needed relief.  They wouldn't remove the tube until I could breathe on my own; I kept fading out with exhaustion, and the panic-beep of the respirator would startle me awake, in what seemed like an endlessly repeating pattern.  Finally, when they took the breathing tube out, I was amazed at how long it was — the nurse kept pulling and pulling, like a magician yanking multi-colored silken scarves from a tuxedo sleeve.
But really, there was way more good than bad.  A sappy song from the 70s,  just two lines of the chorus, went through my head again and again as I was wheeled into surgery, and ear-wormed me during the week long recovery.  Just the thought of that song still brings me to the brink of grateful tears.  I'll never reveal the title of that song, since its the kind of sentimental optimism I've banished from my fiction.
I am grateful to my regular cardiologist, Dr. Zawodny, for identifying the problem; my amazing surgeon, Dr. Gamie, who accomplished a meticulous valve repair without needing to insert an artificial replacement; the attentive and caring staff in the ICU and Cardiac Step-Down units at the University of Maryland; the cardiac rehab group at Union Memorial who helped me gain confidence to exercise again (and gave me a T-shirt when I graduated — so I joke, after my co-pay for each session, that it's "my $600 shirt").
More than anything, I am grateful for my husband, Jim Gernert, who kept me calm during the weeks leading up to the surgery; whose smiling face comforted me when I woke gasping in the ICU, a loving wave to banish the beep of the respirator; who, in addition to daily visits, stayed the night in an uncomfortable hospital chair to rescue me from a panic spiral that hit during a crucial recovery point; who, as I fought my way back to full strength, was there every step of the way — the most generous and caring partner anybody could ever hope for, the best person I will ever know.
So, yeah, those two lines in that 70s song were all about him.
Maybe life would be easier without worry.  But the simplest things during my recovery felt like miracles:  the cat greeting me at the door when I returned from the hospital; the first time I could stand without help; walking to the restaurant across the street to order my own dinner; carrying a hideous valentine-heart pillow to protect my healing ribcage so I could go to the movies (don't tell me Batman vs. Superman isn't a great film — it was just the spectacle I needed).
None of this without medicine, without doctors, without the caregivers in all our lives.
Perhaps I've finally succumbed to sentimental optimism.  But I won't say anything to make this worse.  There can be happiness after overwhelming dread.  There's a possibility of life after the apocalypse.
[For my doctors.  For Jim.]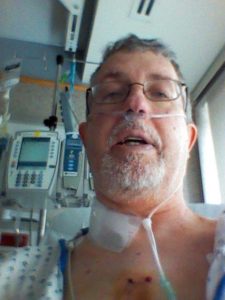 Me, on March 31, 2016 — out of the ICU, recovering…